Fwog
All Islands: Noggin & Toe Jammer (Breeding Time: 30 Minutes / 22 Minutes 30 Seconds Enhanced)
Drumpler
All Islands: Noggin & Mammott (Breeding Time: 30 Minutes / 22 Minutes 30 Seconds Enhanced)
Maw
All Islands: Toe Jammer & Mammott (Breeding Time: 30 Minutes / 22 Minutes 30 Seconds Enhanced)
Shrubb
All Islands: Potbelly & Noggin (Breeding Time: 8 Hours / 6 Hours Enhanced)
Oaktopus
All Islands: Potbelly & Toe Jammer (Breeding Time: 8 Hours / 6 Hours Enhanced)
Furcorn
All Islands: Potbelly & Mammott (Breeding Time: 8 Hours / 6 Hours Enhanced)
Pango
All Islands: Tweedle & Mammott (Breeding Time: 8 Hours / 6 Hours Enhanced)
Quibble
All Islands: Tweedle & Toe Jammer (Breeding Time: 8 Hours / 6 Hours Enhanced)
Dandidoo
All Islands: Tweedle & Potbelly (Breeding Time: 8 Hours / 6 Hours Enhanced)
Cybop
All Islands: Tweedle & Noggin (Breeding Time: 8 Hours / 6 Hours Enhanced)
Stogg
All Islands: Noggin & Kayna (Breeding Time: 10 Hours / 7 Hours 30 Minutes Enhanced)
Phangler
All Islands: Toe Jammer & Kayna (Breeding Time: 10 Hours / 7 Hours 30 Minutes Enhanced)
Glowl
All Islands: Tweedle & Kayna (Breeding Time: 10 Hours / 7 Hours 30 Minutes Enhanced)
Boskus
All Islands: Mammott & Kayna (Breeding Time: 10 Hours / 7 Hours 30 Minutes Enhanced)
Flowah
All Islands: Potbelly & Kayna (Breeding Time: 10 Hours / 7 Hours 30 Minutes Enhanced)
Fwog
All Islands: Noggin & Toe Jammer (Breeding Time: 30 Minutes / 22 Minutes 30 Seconds Enhanced)
Drumpler
All Islands: Noggin & Mammott (Breeding Time: 30 Minutes / 22 Minutes 30 Seconds Enhanced)
Maw
All Islands: Toe Jammer & Mammott (Breeding Time: 30 Minutes / 22 Minutes 30 Seconds Enhanced)
Shrubb
All Islands: Potbelly & Noggin (Breeding Time: 8 Hours / 6 Hours Enhanced)
Oaktopus
All Islands: Potbelly & Toe Jammer (Breeding Time: 8 Hours / 6 Hours Enhanced)
Furcorn
All Islands: Potbelly & Mammott (Breeding Time: 8 Hours / 6 Hours Enhanced)
Pango
All Islands: Tweedle & Mammott (Breeding Time: 8 Hours / 6 Hours Enhanced)
Quibble
All Islands: Tweedle & Toe Jammer (Breeding Time: 8 Hours / 6 Hours Enhanced)
Dandidoo
All Islands: Tweedle & Potbelly (Breeding Time: 8 Hours / 6 Hours Enhanced)
Cybop
All Islands: Tweedle & Noggin (Breeding Time: 8 Hours / 6 Hours Enhanced)
Stogg
All Islands: Noggin & Kayna (Breeding Time: 10 Hours / 7 Hours 30 Minutes Enhanced)
Phangler
All Islands: Toe Jammer & Kayna (Breeding Time: 10 Hours / 7 Hours 30 Minutes Enhanced)
Glowl
All Islands: Tweedle & Kayna (Breeding Time: 10 Hours / 7 Hours 30 Minutes Enhanced)
Boskus
All Islands: Mammott & Kayna (Breeding Time: 10 Hours / 7 Hours 30 Minutes Enhanced)
Flowah
All Islands: Potbelly & Kayna (Breeding Time: 10 Hours / 7 Hours 30 Minutes Enhanced)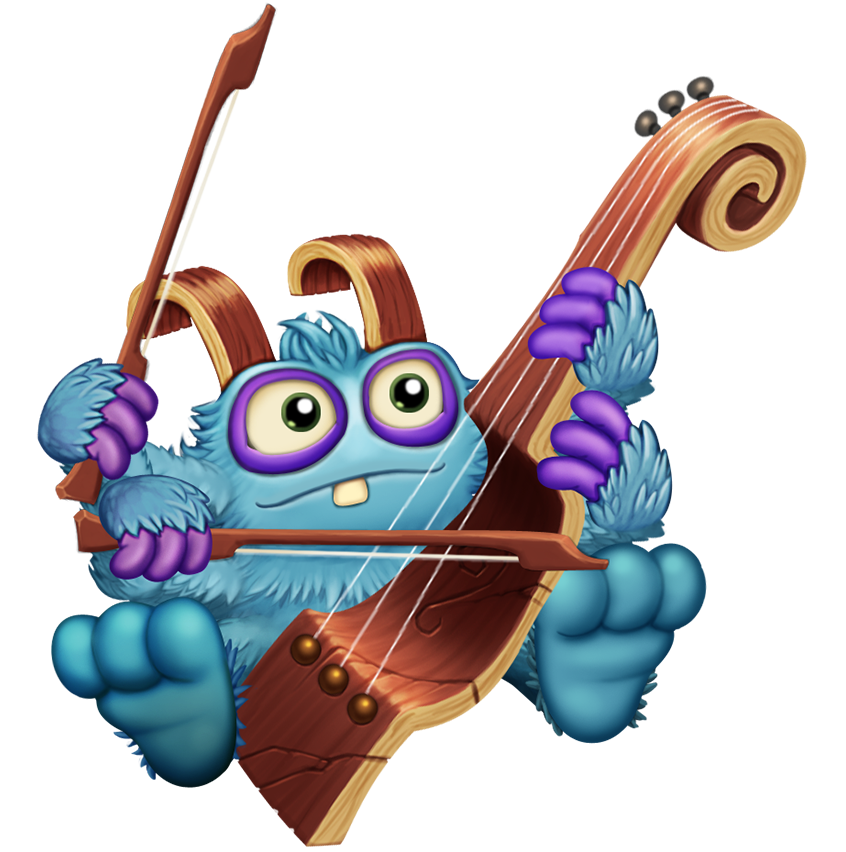 Starting with the best combinations to use and ending with the worst.
Mammott & Oaktopus
Toe Jammer & Furcorn
Potbelly & Maw
Clearly the Bowgart kid is outsized by its instrument. Until it can grow full horns, it'll have to make do with hand-me-downs. It's a good thing that a Bowgart grows two horns; a younger's first attempt at making an instrument is not always successful.
Age and experience turn Bowgarts into skilled luthiers. They always have a collection of spare instruments around. It is generally considered wise to leave one's extra instrument unstrung though, as curious novices tend to produce a sound that can only be described as ghastly.
This Bowgart returned from the Prism Gate forever changed! The Monster's limbs, previously specialized to suck mud up through its feet and multitask in the playing of its instrument, have been modified (and multiplied!) at the molecular level to instead produce webbing and serve as organic bows and strings - extraordinary!
| | | | |
| --- | --- | --- | --- |
| | | | |
| | | | |
| --- | --- | --- | --- |
| | | | |
| | | | |
| --- | --- | --- | --- |
| | | | |
| | | | |
| --- | --- | --- | --- |
| | | | |
| | | | |
| --- | --- | --- | --- |
| | | | |
| | | | |
| --- | --- | --- | --- |
| | | | |