Fwog
All Islands: Noggin & Toe Jammer (Breeding Time: 30 Minutes / 22 Minutes 30 Seconds Enhanced)
Drumpler
All Islands: Noggin & Mammott (Breeding Time: 30 Minutes / 22 Minutes 30 Seconds Enhanced)
Maw
All Islands: Toe Jammer & Mammott (Breeding Time: 30 Minutes / 22 Minutes 30 Seconds Enhanced)
Shrubb
All Islands: Potbelly & Noggin (Breeding Time: 8 Hours / 6 Hours Enhanced)
Oaktopus
All Islands: Potbelly & Toe Jammer (Breeding Time: 8 Hours / 6 Hours Enhanced)
Furcorn
All Islands: Potbelly & Mammott (Breeding Time: 8 Hours / 6 Hours Enhanced)
Pango
All Islands: Tweedle & Mammott (Breeding Time: 8 Hours / 6 Hours Enhanced)
Quibble
All Islands: Tweedle & Toe Jammer (Breeding Time: 8 Hours / 6 Hours Enhanced)
Dandidoo
All Islands: Tweedle & Potbelly (Breeding Time: 8 Hours / 6 Hours Enhanced)
Cybop
All Islands: Tweedle & Noggin (Breeding Time: 8 Hours / 6 Hours Enhanced)
Stogg
All Islands: Noggin & Kayna (Breeding Time: 10 Hours / 7 Hours 30 Minutes Enhanced)
Phangler
All Islands: Toe Jammer & Kayna (Breeding Time: 10 Hours / 7 Hours 30 Minutes Enhanced)
Glowl
All Islands: Tweedle & Kayna (Breeding Time: 10 Hours / 7 Hours 30 Minutes Enhanced)
Boskus
All Islands: Mammott & Kayna (Breeding Time: 10 Hours / 7 Hours 30 Minutes Enhanced)
Flowah
All Islands: Potbelly & Kayna (Breeding Time: 10 Hours / 7 Hours 30 Minutes Enhanced)
Fwog
All Islands: Noggin & Toe Jammer (Breeding Time: 30 Minutes / 22 Minutes 30 Seconds Enhanced)
Drumpler
All Islands: Noggin & Mammott (Breeding Time: 30 Minutes / 22 Minutes 30 Seconds Enhanced)
Maw
All Islands: Toe Jammer & Mammott (Breeding Time: 30 Minutes / 22 Minutes 30 Seconds Enhanced)
Shrubb
All Islands: Potbelly & Noggin (Breeding Time: 8 Hours / 6 Hours Enhanced)
Oaktopus
All Islands: Potbelly & Toe Jammer (Breeding Time: 8 Hours / 6 Hours Enhanced)
Furcorn
All Islands: Potbelly & Mammott (Breeding Time: 8 Hours / 6 Hours Enhanced)
Pango
All Islands: Tweedle & Mammott (Breeding Time: 8 Hours / 6 Hours Enhanced)
Quibble
All Islands: Tweedle & Toe Jammer (Breeding Time: 8 Hours / 6 Hours Enhanced)
Dandidoo
All Islands: Tweedle & Potbelly (Breeding Time: 8 Hours / 6 Hours Enhanced)
Cybop
All Islands: Tweedle & Noggin (Breeding Time: 8 Hours / 6 Hours Enhanced)
Stogg
All Islands: Noggin & Kayna (Breeding Time: 10 Hours / 7 Hours 30 Minutes Enhanced)
Phangler
All Islands: Toe Jammer & Kayna (Breeding Time: 10 Hours / 7 Hours 30 Minutes Enhanced)
Glowl
All Islands: Tweedle & Kayna (Breeding Time: 10 Hours / 7 Hours 30 Minutes Enhanced)
Boskus
All Islands: Mammott & Kayna (Breeding Time: 10 Hours / 7 Hours 30 Minutes Enhanced)
Flowah
All Islands: Potbelly & Kayna (Breeding Time: 10 Hours / 7 Hours 30 Minutes Enhanced)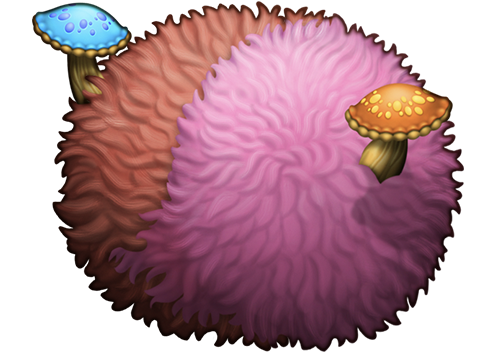 Starting with the best combinations to use and ending with the worst.
Mammott & Dandidoo
Potbelly & Pango
Tweedle & Furcorn
To young Thumpies the whole world is a bouncy castle. For these tumblendy-twins have an instinctive need to tumble and thump. Thumpies must never be subjected to polka music or velcro...
Thumpies bring their musicality and infectious sense of fun to each world they explore, spreading mischief and colorful hairballs everywhere they go. Though their skin is tough as rawhide. Their fur is fine as spider silk-and a tad adhesive-so they make excellent lint brushes should the need arise.
These Thumpies returned form the Prism Gate forever changed! Curiously, the FurFace and NooBie subspecies were swapped with - and their stump altered at the molecular level to become a fanged creature with beady eyes - extraordinary!
| | | | |
| --- | --- | --- | --- |
| | | | |
| | | | |
| --- | --- | --- | --- |
| | | | |
| | | | |
| --- | --- | --- | --- |
| | | | |
| | | | |
| --- | --- | --- | --- |
| | | | |
| | | | |
| --- | --- | --- | --- |
| | | | |
| | | | |
| --- | --- | --- | --- |
| | | | |